This article explores the costs and experiences associated with having a wedding in Cyprus, a popular destination for couples seeking a romantic Mediterranean setting.
Introduction: Why Cyprus?
If you're looking for a stunning destination to tie the knot, Cyprus should be at the top of your list. This beautiful island in the Mediterranean Sea has everything you need for the wedding of your dreams – from breathtaking beaches to historic venues and world-class cuisine. But what really sets Cyprus apart from other wedding destinations is its affordability.
Despite its many perks, Cyprus remains relatively affordable compared to other popular wedding locations around the world, making it an ideal choice for couples on a budget or those who simply want to get more bang for their buck. Whether you're looking to have an intimate ceremony with just a handful of guests or a grand celebration with hundreds of attendees, you're sure to find a venue or package that suits your needs and budget in Cyprus.
Another reason to consider Cyprus for your wedding is its rich cultural heritage. The island has a long and fascinating history that is reflected in its architecture, art, and traditions. From ancient ruins to medieval castles, there are plenty of unique and romantic venues to choose from that will transport you and your guests back in time. And if you're a foodie, you'll love the local cuisine, which is a blend of Greek, Turkish, and Middle Eastern flavors.
Of course, no destination wedding is complete without plenty of opportunities for relaxation and adventure. Cyprus has plenty of both. Whether you're into water sports, hiking, or simply lounging on the beach, you'll find plenty of activities to keep you and your guests entertained before and after the big day. And with its warm climate and friendly locals, you'll feel right at home on this enchanting island.

A breathtaking view of the Mediterranean Sea from a cliffside wedding venue in Cyprus.
What's the Average Cost of a Wedding in Cyprus?
When it comes to the cost of a wedding in Cyprus, there are several factors to consider, such as the size of the guest list, the type of venue, and the quality of the vendors you choose. However, on average, a wedding in Cyprus can cost anywhere from €6,000 to €15,000, depending on your preferences and priorities.
One of the biggest expenses you'll face is the venue. Popular choices like luxury hotels, beach clubs, and historic landmarks can cost several thousand euros for a full day rental. However, if you're willing to get creative, you can find more affordable options like villas, gardens, and public parks that offer stunning backdrops for a fraction of the price.
Another major cost is catering. Cyprus is known for its delicious cuisine, but feeding a large group of people can quickly add up. A typical wedding meal can cost anywhere from €30 to €100 per person, depending on the menu and the level of service you choose. Be sure to factor in the cost of beverages, desserts, and any additional snacks or meals you plan to offer throughout the day.
Other expenses to consider include transportation, entertainment, decorations, and photography. While you can save money by hiring local vendors and limiting your guest list, it is important to have a clear idea of your budget and priorities from the outset.
How Does the Price Compare to Other Wedding Destinations?
When it comes to choosing a wedding destination, Cyprus offers a unique blend of history, culture, and natural beauty that is hard to find elsewhere. However, how does the cost of a wedding in Cyprus compare to other popular destinations around the world?
According to recent surveys, the average cost of a wedding in Cyprus is on par with other European destinations like Italy, Spain, and France. However, it is generally more affordable than popular American wedding destinations like New York, Hawaii, and California.
One advantage of choosing Cyprus for your wedding is the favorable exchange rate. The euro is currently weaker than the US dollar, which means that your money can go further in Cyprus than it would in many other destinations. Additionally, Cyprus offers a wide range of affordable accommodation options, from budget-friendly hotels to cozy guesthouses and apartments.
Another factor to consider is the weather. Cyprus enjoys a Mediterranean climate with mild winters and hot summers, which makes it a great choice for couples who want to get married outdoors. However, this also means that peak wedding season can be crowded and expensive, so consider planning your wedding during the shoulder season to save money.

A comparison chart of average wedding costs in Cyprus versus other popular destinations.
What Factors Influence the Cost of a Wedding in Cyprus?
The cost of a wedding in Cyprus will depend on many factors, including the time of year, the location, the number of guests, and the type of venue you choose. Here are some of the most significant factors that can influence the cost of your Cyprus wedding.
1. Venue:
The type of venue you choose will have a significant impact on the cost of your wedding. A luxury hotel or beachfront resort will generally be more expensive than a simple outdoor ceremony or a local community center.
2. Guest Count:
The number of guests you invite will also play a role in the cost of your wedding. More guests mean more food, drinks, and seating, which can quickly add up.
3. Time of Year:
Cyprus' peak wedding season is from May to October, which means that prices are generally higher during this time. If you're willing to get married during the off-season, you may be able to save money on venue fees and other expenses.
4. Catering:
Food and drinks are a significant expense for any wedding, and Cyprus is no exception. If you opt for a traditional Cypriot menu or wine, you may be able to save money compared to international cuisine.
5. Decorations and Flowers:
Finally, the cost of decorations and flowers can add up quickly. If you're looking to save money, consider using local flowers and greenery, or using DIY projects to create your decorations.
עבור מידע אודות חתונה בקפריסין מחיר נא לגלוש לאתר free-wedding.info
Can You Save Money by Opting for a Local Wedding Planner?
Hiring a local wedding planner can be a great way to save money on your Cyprus wedding. A local planner will have connections to vendors and venues in the area, which can help you secure better deals and negotiate prices. Additionally, a local planner will be familiar with the local customs and traditions, which can help you avoid any costly mistakes.
One of the biggest advantages of working with a local wedding planner is that they can help you find the best deals on everything from catering to flowers to venue rentals. Because they have established relationships with local vendors, they may be able to secure discounts or negotiate lower prices on your behalf.
Another advantage of working with a local wedding planner is that they can help you navigate the local bureaucracy and paperwork that comes with planning a wedding in Cyprus. This can be especially helpful if you're planning a destination wedding and are unfamiliar with the local laws and regulations.
In addition to helping you save money, a local wedding planner can also help you save time and stress. Planning a wedding can be incredibly time-consuming and overwhelming, especially if you're doing it from afar. By working with a local planner, you can delegate many of the tasks and responsibilities to them, freeing up your time and allowing you to enjoy the lead up to your wedding day.

A smiling local wedding planner assisting a couple with their wedding preparations in Cyprus.
What Do Real Couples Have to Say About Their Cyprus Wedding Experience?
Many couples who have gotten married in Cyprus rave about their experience. From the beautiful beaches to the stunning sunsets, Cyprus provides a picturesque backdrop for any wedding. Additionally, the warm and welcoming hospitality of the locals can make couples feel right at home.
One couple, Anna and James from the UK, got married in Paphos, Cyprus, and said that their wedding day was "truly magical." They loved the relaxed and laid-back atmosphere of their beach wedding, and said that the local vendors and wedding planner made everything easy and stress-free.
Another couple, Sarah and Michael from the US, got married in a traditional Cypriot village and said that it was "an experience they'll never forget." They loved the local food, music, and traditions, and said that their wedding felt like a true celebration of Cypriot culture.
However, not all couples have had positive experiences with their Cyprus weddings. Some have complained about the high costs of vendors and venues, and others have said that they've had communication issues with local planners and vendors who don't speak English fluently.
Conclusion: Is a Cyprus Wedding Worth the Price?
In conclusion, a Cyprus wedding can be a truly special and unforgettable experience, but it does come with a price tag. The cost of a wedding in Cyprus can vary greatly depending on factors such as the location, the number of guests, and the vendors chosen. While some couples may find the cost to be too high, others may feel that the stunning scenery and warm hospitality of the locals is worth the investment.
Ultimately, whether or not a Cyprus wedding is worth the price depends on the couple's priorities and budget. Couples who are looking for a unique and exotic destination for their wedding, and are willing to invest the time and money to plan it properly, may find that a Cyprus wedding is the perfect choice. However, for those who are looking to keep costs down or prefer a more traditional wedding experience, other destinations may be a better fit.
It's important for couples to do their research and work with reputable vendors and planners to ensure that their Cyprus wedding is a success. By taking the time to carefully plan and budget for their wedding, couples can minimize the risk of unexpected costs and ensure that their special day is everything they've dreamed of.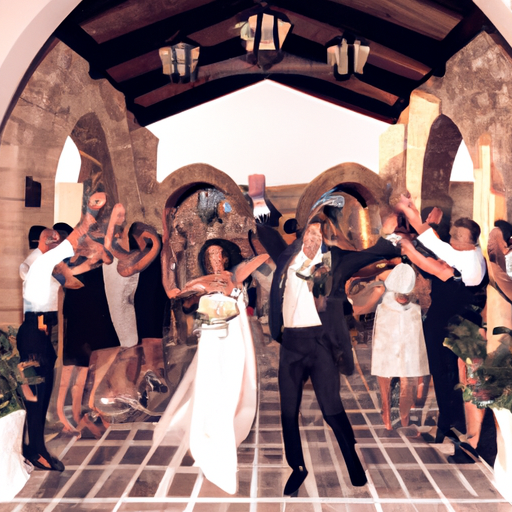 A final shot of a couple celebrating their wedding day in Cyprus, surrounded by friends and family.
Wedding in Cyprus Price:
| Category | Price | Category | Price |
| --- | --- | --- | --- |
| Venue | €1,200 – €3,000 | Catering | €25 – €45 per person |
| Photography | €800 – €1,500 | Flowers | €250 – €900 |
| Decorations | €500 – €1,500 | Entertainment | €500 – €1,500 |
| Transportation | €200 – €600 | Accommodation | €50 – €200 per night |
Cyprus offers an unforgettable wedding experience with its stunning landscapes and rich history, all at a relatively affordable cost compared to other popular wedding destinations.